When we think of St. Patrick's day we think green, we think beer (also green) and tons of fun. And when we think of the best places to do it, we think Boston, New York, Chicago and maybe even New Orleans ('cause they can just flat out celebrate down there). But for the rest of us, where are some other spots to get all lit up in green? That's why we've furnished you this amazeballs list of 5 surprisingly uproarious St. Paddy's Day Towns
Say what? Of course we know. We're Must Do Travels and we know how to do things.
Savannah, Georgia
"Say what?" you say. "Savannah on St. Paddy's day?" you say. Yassss.  But wait till you romp by the dyed green water in Forsyth Park's fountain – or tailgating with thousands of other exuberant co-celebrators, pre-parade. Wanna hear our dirty little secret? Well, we're telling you anyway. Savannah's St. Patrick's Day is one of the country's most popular. So, there's that.
O'Neill, Nebraska

Where the dickens is O'neill, Nebraska you ask? Fair question. So, we'll answer it with this solid fact:  Find the world's largest Shamrock and WHAAABOOOM (thank the Bachelorette guy) and you'll be standing right in O'Neill. Cool huh? Giant shamrock notwithstanding, O'Neill doubles in size come mid-March. And once you're all good with shamrock gazing, you'll get down on some unconventional and raucous celebration like dodgeball, public hypnosis shows and more. Okay, we'll say it for you. SHAM-WOW!
New London, Wisconsin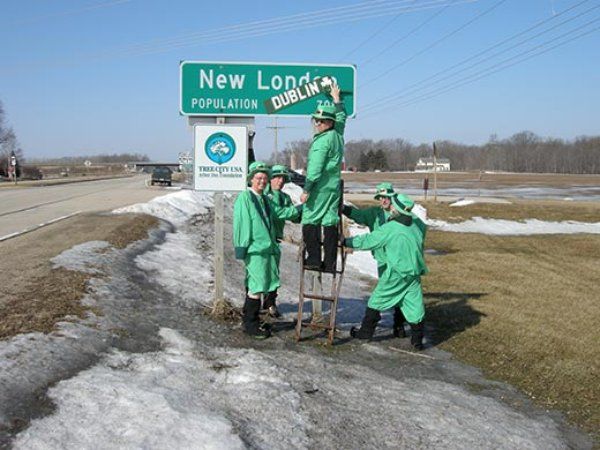 Just west of Green Bay, St. Paddy's day adventurers are in for a treat. In New London, you'll find leprechauns a town that officially changes its name once a year to "New Dublin" and a really odd, albeit entertaining Irish funeral parody. They pull out all the stops from much funeral procession, antique hearse and well, wait till you get to the coffin theatrics. You'll be singing that, "I get knocked down, but I get up again …" song.
Enterprise, Alabama
Sometimes less is more  and when it comes to Enterprise, you'll find the tiniest St. Paddy's Day Parade of them all. Each year, this small Southern town puts on a celebration billed as the world's smallest St. Patrick's Day parade, which features only one participant who dances and sings along the parade route. Beyond the intentionally lame parade, however, Enterprise gets "turns up" for the holiday. As one local resident put it, "Parade Shmarade, there beer to be drinkin' and hootin' and hollerin' to be thinkin'!!!" (You're not alone, we also got lost/let down with the gratuitous, but off-target rhyming effort. Like, since when is "hollerin'" a thought?) Nevertheless, this is a supremely fun St. Paddy's Day town.
Hot Springs, Arkansas
If Enterprise hosts the smallest, then Hot Springs Arkansas reigns supreme as the shortest. They've got a full-scale parade schedule that goes and astounding, 98 feet. Yep. That's it. And sure, some other town can go 97 but that's not the point. 98 feet is their gig and they've been doing it just like this for generations. Beyond the short ass parade, you'll enjoy performances by Irish Elvis, an Arkansas Blarney Stone kissing contest,  and of course, the world's largest inflatable leprechaun. Besides, just because the parade is short, doesn't mean it doesn't work as it brings in 30K visitors each year.
A Must Do Travels We KNOW (Sheesh)
Yes, we know you're probably not going to check any of these towns tomorrow (unless you live fairly close.) And yeah, we know you'd have fun if you did. And sure, if you wanted to live on the wild side and book a quick trip we can help you save money so you still have a lot left over to spend on beer and whiskey. Just come by VacationRewards.com to save.