If you ever find yourself in Cancun, don't pass up the opportunity to experience the small island of Isla Holblox. Often referred to simply as "Holbox" by its 2,000 residents, the island is a 26 miles long strip that's just one mile wide. While it has a strange past of being a refuge for pirates, the island now offers tourists a certain simplicity, away from the stress and dynamics of the modern world. It is an under-the-radar destination perfect for when you want to truly escape. Plus, you might save a few pesos as well!
Environment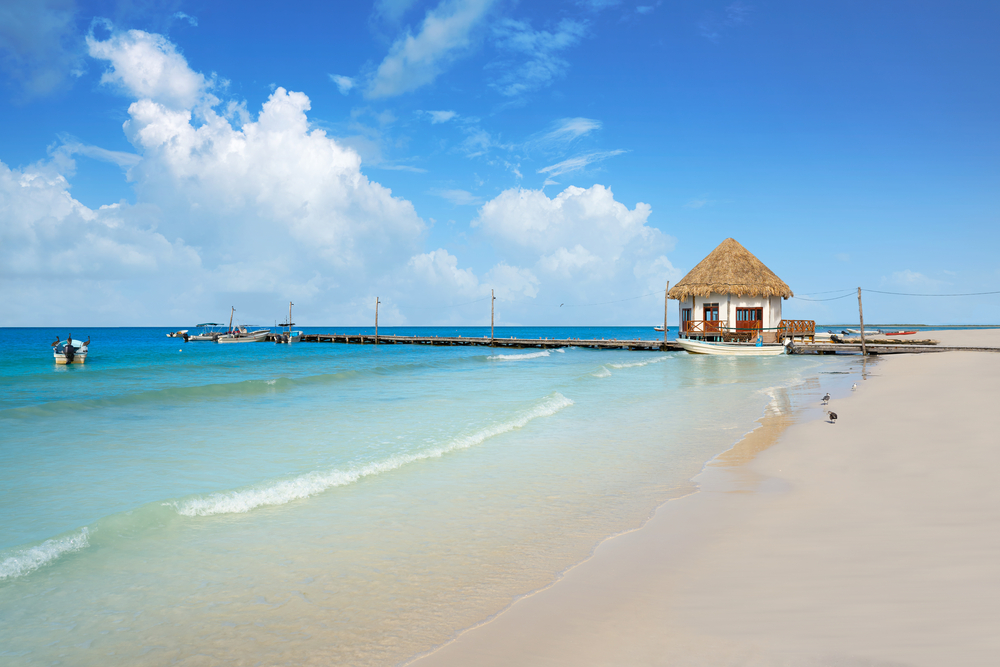 With fewer people than your average town, the locals have formed a friendly, close-knit community. Lazy days and carefree nights are encouraged on this island, as there are plenty of great beach spots, unique hotels, delicious small restaurants and a general calmness. You won't find many high heels or large structures here, although developers have been eyeing the spot as a potential new resort hotspot. If you can, get here sooner than later before the secret of this paradise gets out!
Things to do
At low tide, you can just walk to the sandbar without the water going higher than your waist if you're average height. Holbox is ideal for whatever you find more relaxing, either swimming, yoga, hiking, paddle boarding, snorkeling, kayaking or simply curling up with a good book in a hammock. And if you are a photographer, enthusiast, or just love taking pictures, Holbox has great spots for a professional picture with your canon or a simple selfie with a mind-blowing background.
Transportation
Getting around Holbox is pretty easy but due to the narrow roads, some of which aren't paved, the preferred means of transportation is by golf cart. You can also rent your own golf cart if you'd prefer to take the journey into your own hands. However, the entire island is not very large and if you like walking, you can probably get around on foot.
Art
If you're a fan of street art, you'll definitely love it in Holbox. Walking or golf carting around the island will expose you to the brightly colored homes and hand-painted signs and décor many restaurants and shops have. You will even find a few pieces left behind by some past creative visitors. We recommend a stroll if you really want to appreciate the beauty of the street art in Holbox. The town also hosts an annual art festival every year, so if you plan it right, you might be able to check that out while you visit.
Food
If you love Mexican food, you'll be on cloud nine with all the small, family-owned restaurants. Take your time with a long breakfast at Le Jardine, enjoy a frosty beer at Angeles y Diablos, or have a romantic dinner of fresh seafood at Restaurante Colibri. Some of the dishes here even have a bit of Caribbean flair, making for a unique twist on traditional Yucatan cuisine.
Accommodations
After a relaxing day of fun, food, and kicking back, you can catch your forty winks at one of the laid-back, cozy hotels. From Spa treatments to beachfront tree houses, there are many options to choose from, despite the island's small size. Many hotels offer perks such as airport shuttles, air conditioning, free wifi and a free ferry service to get back onto the mainland.
Rest assured, no matter what you choose to do on this island, a visit to Isla Holbox is definitely going to be the highlight of your trip to Cancun. The beauty and serenity are absolutely breathtaking and worth the effort of driving or taking the ferry out of the way. Make your way here and save touristy Tulum for another day!