Hiking, it's what the Pacific Northwest is arguably best known for. Well, that and hipsters. These beautiful states are scattered with hikes, and with all of these beautiful trails to choose from, we're here to give you a hand in picking the best ones for your next trip up to this rainy region.
Toketee Falls
Startin' it off small with Oregon's Toketee Falls. This stunning waterfall in the Umpqua National Forest takes less than a mile hike to reach. You'll probably recognize it from the many photos circulating Instagram because this view is truly breathtaking. The two-tiered waterfall flows down the side of a cliff that surrounds the area and making it even more beautiful. The 0.8-mile hike is perfect for kids, a busy day or those who don't particularly enjoy hiking but still want a view.
Carroll Rim Trail
This dry trail is the exact opposite of the last one. Instead of a lush forest and waterfall, the Carroll Rim Trail spirals through the John Day Fossil Beds National Monument in Oregon. This trail offers the best views of the Painted Hills, and some of the best sunsets you'll ever see in your life. It can be steep in some areas but is only 1.6 miles round trip, so it's easy to fit into a busy day if you're in the area.
Colchuck Lake
This Washington hike will offer you one of the best views of your life, as well as quite the workout. Colchuck Lake has been described as "heaven on earth," but it does take nine miles round trip to get there. Totally worth it, though! This lake's striking blue water is unforgettable and if you're a hiking lover, it is a definite must do!
Nisqually Vista Loop Trail
Nisqually Vista Loop Trail is a 1.1-mile hike on Mount Rainier in Washington. It's another easy trail that is great for families and offers some of the most amazing views of the stunning mountain. The trail is paved, so it's more of a scenic walk than a hike, making it perfect for all ages! Be sure to get to the parking lot early in the morning though, it fills up quickly!
Rattlesnake Ledge
Rattlesnake Ledge is the perfect hike to take if you're on a trip to Seattle because it's so close! Take a break from the city for a day to see this gorgeous trail. The hike is rated moderate to hard and is four miles round trip, with an elevation gain of 1,160 feet. The trail is also pet-friendly so you can bring your pup, and if you don't have a dog, you're guaranteed to see some on the way up.
Oneonta Gorge
This amazing one-mile Oregon hike is tucked away in the Columbia River Gorge. The hike is best done in the summer because for most of it, you'll have to wade through shallow water. Although your feet may get a little cold, the gorgeous view of Oneonta Falls at the end makes it all worth it. As you walk through the creek, you'll also be surrounded by the picturesque, moss-covered walls of the gorge. While hiking through a creek may seem intimidating, trust us when we say you can't miss this one!
Mount Storm King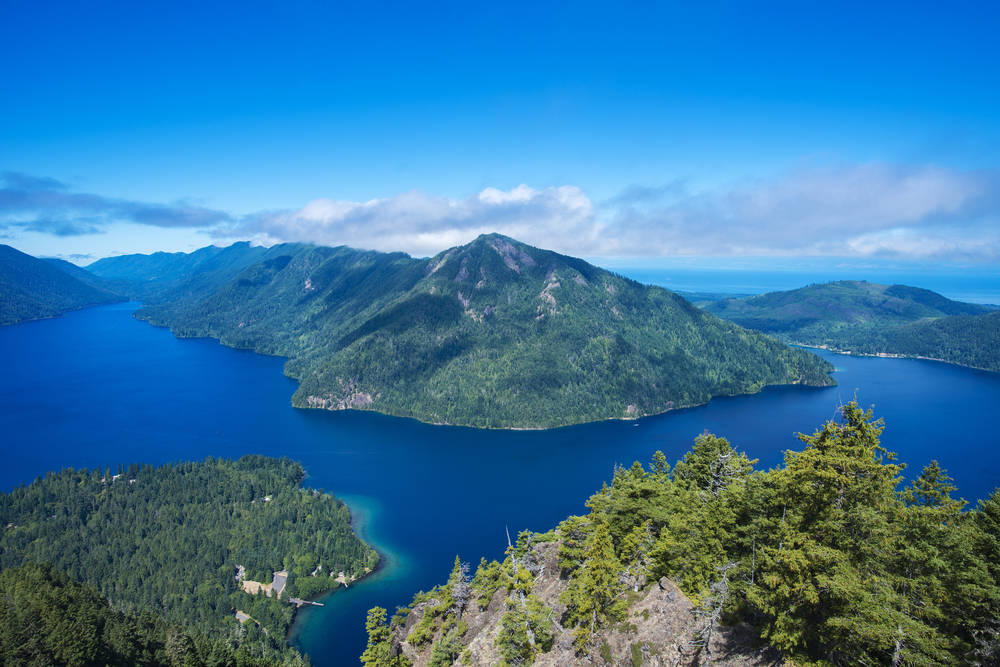 Of course, we saved the best for last! Mount Storm King in Washington has been described as some of the best views people have seen in their lives. How could you pass that up? The hike has a 2,300 ft. elevation gain in just two miles, so come prepared. While the trail is difficult, if you take it on in nice weather and with the proper equipment, you're in for the view of a lifetime.
Whether you're a hiking lover, or just looking for a breathtaking view, we hope this helps you pick out which gorgeous trail you're going to take on while on your next trip!