Everybody who can get away for Spring Break fun (we know, adults, we know), most always want to and absolutely should. And because we all think we "understand" what Spring Break implies, we tend to see things from our own perspective. That said, no matter what type of getaway you enjoy most – there's a Mexico Spring Break Destinations to serve your most break-ish desires, no matter where upon the spectrum they dance.
To Chillax: Tulum
The city is located about two hours south of Cancun along the Riviera Maya coast and features the ruins of an ancient Mayan port city. Book a stay at one of many boutique hotels or consider one of the sustained palapa huts at the beachside Papaya Playa Project. Tulum is also known at a top yoga retreat – perfect for detoxing and then rejuvenating the body and soul. As far as food goes, there are tons of hot restaurants opening. The early evening vibe in this town is foodie-centric for sure, with fantastic health-conscious selections and boutique chef-driven eateries.
Couples Covet: Riviera Maya

The Caribbean coast of Mexico just south of Cancun is known as the Riviera Maya, famous for its white sand beaches, clear water and endless sunshine. There are dozens of all-inclusive resorts along the coast, as well as in the city of Playa del Carmen. Select the best by looking at the various amenities and comparing prices online. If you're looking to relax, it's best to select a resort that either doesn't allow children or that has separate swimming pools and beach areas for minors. Also consider the dining options at each resort as many focus on global cuisines, rather than local Mexican fare. A few of the most popular resorts include Grand Velas Riviera Maya, Paradisus Playa del Carmen La Perla and Blue Diamond Riviera Maya.
Party People: Cancun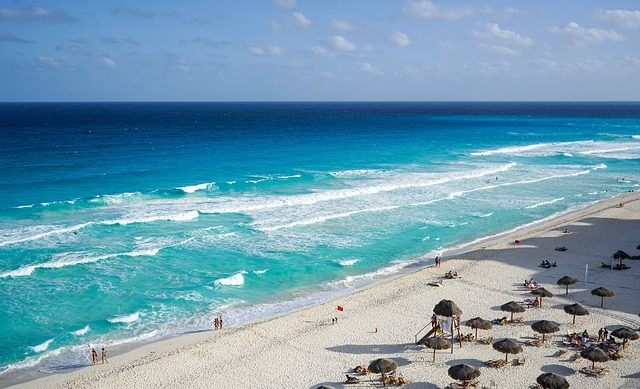 Here's the thing – Cancun doesn't just start partying because it's spring break. Truth be told, it never stops partying. Ever. Cancun is casino-less Vegas by the beach. It is wild, fun, festive and round the clock. During spring break, you just double the amount attractive, college-aged, half-dressed folks at every venue and voila – Spring  Break Cancun.
No matter your budget, you'll have a ridiculous amount of wild times and fun. Select a hotel or an all-inclusive resort, like the Grand Caribe Real. Days will be doing beachy or pool things while the nights will be bars and clubs. If you are young and looking to really let loose, there simply is no better way to do it than Cancun.
To Explore: Mexico City
Not all spring break vacations need to include a beach. Visit Mexico City to enjoy Mexico's food and drink in a more authentic way than you can at an all-inclusive resort. The city, which is a few hour's flight from the West Coast, is bustling with art, great restaurants and innovative cocktail bars. Explore the Frida Kahlo Museum and the Chapultepec Castle, and book a table at Pujol, considered to be one of the best restaurants in the world. And if you still want to sunbathe, no problem: Stay at one of the many Mexico City hotels that have swimming pools perfect for an afternoon in the sun.
To Get Wet: Los Cabos
Los Cabos, at the southern tip of the Baja Peninsula, has two main cities: Cabo San Lucas and San José del Cabo. The beaches on the Pacific Coast of Mexico rockier than you find on the Caribbean side. But that doesn't mean it is any less ideal for snorkeling, scuba, paddle boarding and kayaking. Book an all-inclusive hotel that offers water experiences as part of the package, and don't be afraid to dive in. Both cities also offer delicious food, lively nightlife and tons of shopping.
One More Tip
Pay less than everyone else!
Must Do Travels brings more than great ideas. Because of our volume (and slick private status), we are able to offer the travel industry's lowest booking rates. We trick you not. So, stop dreaming and book your next journey or cruise with us. Life (and travel) is meant for those who always choose to wander, yet are never lost. See our incredible hotel, resort, cruise and tour rates for yourself. And yeah, we've got Mexico covered for ya, too!