Like any big city, Berlin can be hard to navigate. There is just so much to do, how could you possibly pick where to go? But don't worry, we've got some awesome areas in Berlin that will hopefully make your trip a little easier. Berlin is filled with fun and unique neighborhoods for you to explore on your visit. But since there are so many, you'll need help trying to find which ones to check out!
Mitte
The first Berlin neighborhood we'd like to mention is Mitte. The perfect place for museum lovers, Mitte is home to Museum Island, which is just as it sounds, a museum hotspot. The area is a little more upscale and the many corporate offices give it a little more buttoned-up personality than some of Berlin's other neighborhoods. Nonetheless, Mitte is full of interesting history, making it perfect for the tourists out there excited to explore European art and culture.
Kreuzberg
Kreuzberg is for all the hipsters out there. Filled with colorful murals, quaint cafes and unique restaurants, this neighborhood attracts both locals and tourists alike, so it feels very different than other areas in the city. Some of the coolest things to do in the city are in Kreuzberg, whether it's just taking a walk to take in all the vibrant street art, or hit up some of the neighborhood's most popular bars.
Friedrichshain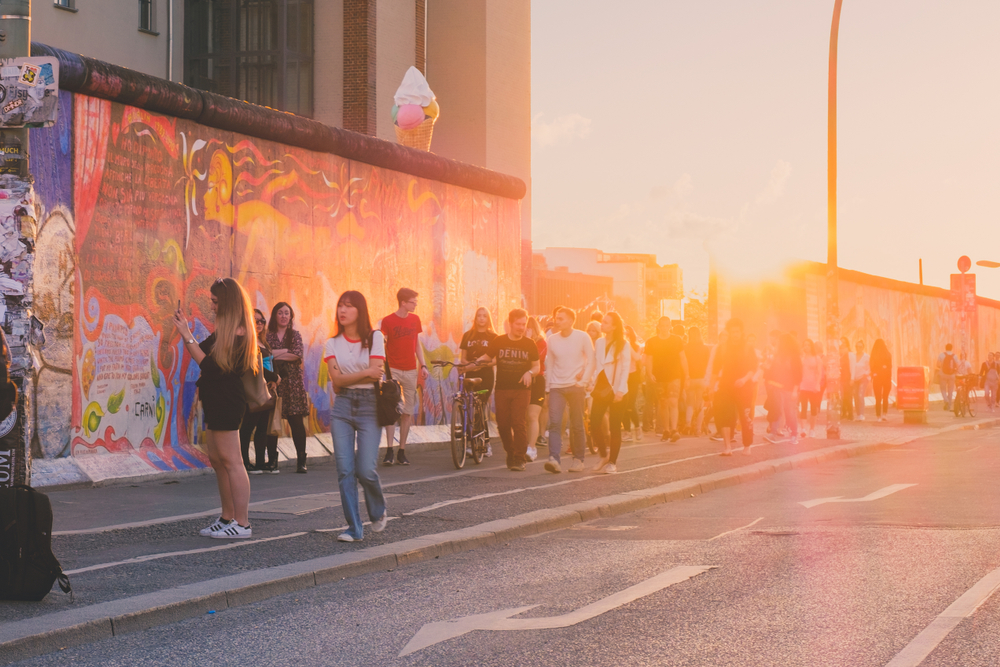 If you thought the street art in Kreuzberg looked cool, you need to check out Friedrichshain. The murals lining these streets may as well be from an art museum because they're truly spectacular. The neighborhood is home to the East Side Gallery, the longest piece of the Berlin Wall that remains today. The East Side Gallery has now been turned into a real art gallery; and trust us, you won't want to miss it.
Prenzlauer Berg
Our fourth neighborhood you need to hear about is Prenzlauer Berg. Prenzlauer Berg is perfect if you're looking to sit back and relax at a cute cafe on a gorgeous tree-lined street. The neighborhood has a tamer and more cozy vibe to it than some other areas of Berlin, while still being hip and supplying you with an endless amount of soy lattes and shopping dates.
Moabit
If you're really looking for an inner-city feel, then you definitely need to take a trip to this district. Berlin's main train station is in Moabit, which means transportation is easy, and you'll have no problem getting there. The whole district is filled with incredible architecture and canals, so even taking a walk to explore is eventful. Even though it doesn't have the same trendy theme some of the other neighborhoods do, you'll definitely want to take some time out of your day for a stroll along these canals.
Berlin is a big city to navigate, and if you're crunched for time, you can only go so many places! We hope we helped out a bit in helping you plan the must do neighborhoods of Berlin. If you want even more to do in Berlin, check out this underwater hotel we stumbled upon.