In the age of Silicon Valley, remote working and staying plugged in at all times, it's not uncommon to see techies posted up in a coffee shop or the Instagram accounts of people who seem to always be on the move. So how do they do it? How can someone afford to live and travel without rich parents or selling vacuum cleaners door-to-door?
As the old saying goes: there's more than one way to make a living.
While some people try their luck at moving and immediately hunting for a service job (food service, bartending, retail, etc.) finding somewhat steady employment from place to place isn't always that easy or lucrative, to say the least. On the other side, if you have a very specific skill set such as a researcher, educator or heck, even a tattooer, there are often bountiful opportunities that will open up to you once you receive a certain level of skill. If you're wanting some stability, but might not have a sparkling Ph.D. or a renowned painter with a legion of fans, here are some ideas on how to find jobs that allow you to see the world.
Digital Nomad
Over the recent years, more and more people have started to live a nomadic lifestyle, with a wifi connection, of course. A digital nomad usually moves from place to place while working remotely, usually as a freelancer, online business owner or contractor. In the thick of sites like Reddit, you can find a glut of postings made by millennial-aged techies who swear by traveling the world instead of investing in a home or car.
The jobs that many digital nomads have are usually in the web development, web design, digital marketing, IT and e-commerce industry. While the barrier to entry can be intimidating due to clients and competition, some DNs actually have a salaried full-time job with an employer! As times are changing, many companies are allowing their employees to work remotely, even fully remotely! As with every job, there can be a few annoyances such as being on a completely different time zone or getting spotty wifi in a less populated area. So needless to say, it's not for everyone, but due to its flexibility and far-spanning reach, it's an increasingly popular option for those looking to nix the 9-5.
Popular Digital Nomad Jobs
Tech
Web developer

Front-end developer

App developer

WordPress developer

UI/UX designer

Shopify Developer
Marketing
Copywriter

PPC specialist

SEO specialist

Social media manager

Content Marketing

Affiliate marketer
Business
Consulting

Business coaching

Project manager

Day trader

Sales
Etc.
Graphic design

Translation

Editing

Blogger

Author

Influencer

Business owner

Affiliate marketer

Online teacher

Virtual assistant
If you have a specific skill set already, a thorough knowledge of a particular niche or thousands of blog visitors each month, you might already be halfway out of the cubicle and into the wild!
Flight Attendant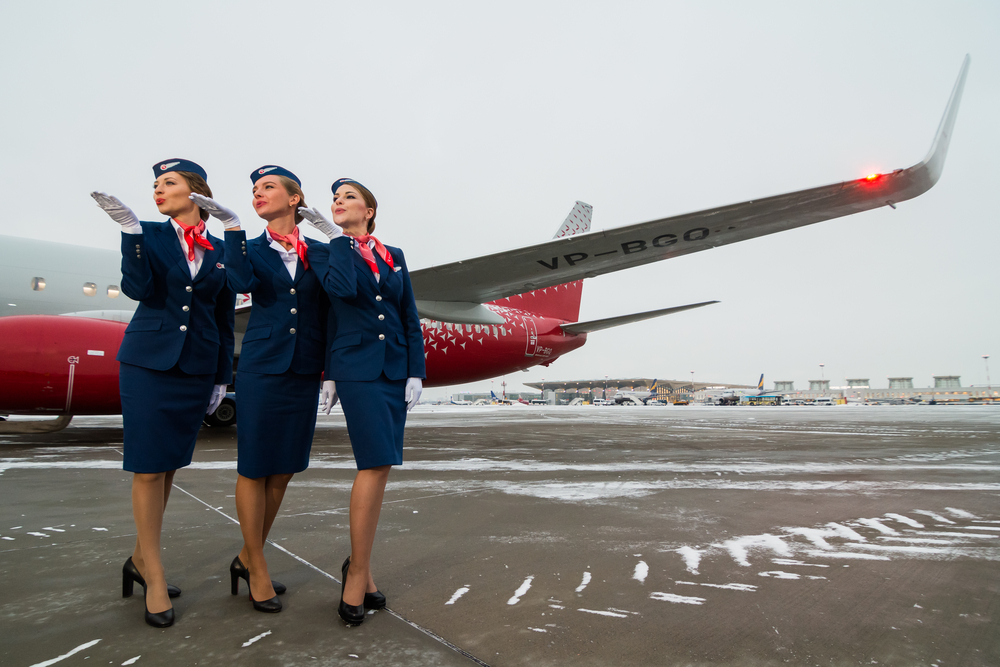 Those with patience, a strong stomach and a love of travel may do well with a job as a flight attendant. But before you dust off your resume, there are a few important details that you should be aware of. Firstly, there's a lot more to being a flight attendant than serving drinks. Your primary goal is ensuring the safety of everyone in the aircraft, which equates to hours and hours of training so you can handle everything from violence to sickness to every sort of nightmare scenario. This sought-after job is also extremely competitive, so there's not a real guarantee you'll get hired right away. If you decide to go through with it though, it can be a rewarding and exciting job that will allow you to see the country or the world while earning a steady paycheck.
English Teacher
Teaching English as a foreign language is one of the classic jobs people take when they're looking to try their hand at living internationally. Many countries offer contracts that can vary in length, from weeks to months, which can be great if you're really trying to dig into another culture.
Depending on where you go and who you'd be teaching, there may be some job requirements. There are online classes available which allow you to get a TEFL (Teaching English as a Foreign Language) certificate, some of which are at a fairly reasonable price. Though not always necessary, some jobs do require a degree as well. If you find the right fit, you will likely get decent pay and a fulfilling experience helping students of various ages learn a new language.
Cruise Ship Worker
If spending time on glistening open water and making pit stops at picturesque destinations every few days sounds like paradise, consider working on a cruise ship. There are so many different jobs you can take on a cruise ship that you may have never expected. Work in the ship's casino, perform for a live audience, bartend, style hair or even take a management position.
If you live in a port city like Miami, Tampa, Galveston, Los Angeles, New York, Seattle or Alaska, taking a cruise contract can be super convenient. Many ships offer different lengths of service so you can apply for a position that lasts several weeks to several months, taking a nice cushy break between your contracts.
If you're looking for an entry-level travel job, a cruise might be a great fit, as you can learn a lot of new skills, grow a network of colleagues and you may even get promoted! There's not a lot of info about how much cruise employees make, but it will definitely vary based on what role you take.
WWOOF (Volunteering)
While it's definitely not for everyone or even a real job per se, WWOOFing (World Wide Opportunities on Organic Farms) is a way to travel the world while helping families and farm owners. The catch here is that you won't be getting paid for the work you do but your host will put you up and feed you for your labor, which is usually around 20-25 hours a week.
You can work on many different types of farms and properties including herb gardens, goat farms, vineyards, ranches, flower fields, orchards and so much more. WWOOF, along with similar services such as Workaway allows you to apply for "jobs" almost anywhere in the world. It's up to the hosts to decide if you're a good fit, so make sure not to get your hopes up too high if you see something you want. Popular destinations in places like Paris or Spain have a larger influx of applicants so you might want to set your sights on a different region or a different country altogether. You're also going to need to have some cash tucked away for any expenses, trips, transport or products you might need during your time there.
The bottom line is that WWOOFing can be a great way to see the world, learn new skills and feel fulfilled, but don't romanticize it too much. If you think you'll be lovingly tending to vegetable gardens in a picturesque landscape, you might be in for a surprise to find out that you're gonna be shoveling poo all day.
In summation, it's 2018 and easier than ever to make money on-the-go. There's a ton of information out there that can speak more to your skillset or niche, so if you're serious, see what opportunities are out there. You'd be surprised at some of the things people will pay you for.
Job Boards with Remote Options