Right when so many major bookstores were closing their doors in 2005, some bibliophiles in Los Angeles, California decided that they were going to open up a gigantic Used Bookstore downtown. The concept for The Last Bookstore was not just that of any old bookstore, but one that was eclectic, quirky and a genuinely cool place to hang out. Just don't forget that they are in the business of selling books, as fun as it may be to look around at all the wonders hidden throughout this old turn-of-the-century 1900's bank. And at that, The Last Bookstore has become one of the most successful independently owned bookstores in the entire world.
Inside the bank, you'll find miles of shelves packed with books old and new (mostly old), and even some that are considered Rare and Collectible too. On the ground floor, it may look like a sheik spot for urbanites to sip some coffee and debate politics until they get kicked out at closing time, but this bookstore hides a lot of art and entertainment that calls you down the aisles for hours as if you are chasing David Bowie in The Labyrinth.
Getting In On The Ground Floor
The first floor is sprawled out with couches in the middle to sit and read, a comic/graphic novel section, vinyl records, a rare books annex and more. There's even some precarious artwork strewn about the walls, but we couldn't help but stare at the neo-classical ceiling that came in the old bank this bookstore now inhabits. The bank was built in an era of American architecture that was once our Golden Years, and not the sticks and styrofoam type of construction they do today.
So Where's The Real Party At?
The second floor is our favorite spot to check out, and you can get there from a dankly-lit stairwell in the back of the store that has the categories of books painted on the steps to point you in the right direction. At the top of the stairs, you are greeted with an art display that looks like some sort of sleep-induced hallucination of books flying out of a dresser, as in "Welcome to our Fictional Books Section!"
There are even some more art displays made from books, including the really popular book tunnel and the portal made out of books. These are both great places to take some pics for your social media accounts, and clearly a smart concept of the owners. These types of installations are part of the draw that brings in the crowds. While some come to snap pretty pictures ooh and ahh, others actually come to buy books or even sell them. On any given day there are about 250,000 books inside this place!
We were humored that the Horror section was contained inside the old bank vault upstairs as if that somehow made it containable. Many people point out that there are books stored in a vault downstairs too, but that looked more like the Safe Deposit Box area from the original bank more-so than a vault.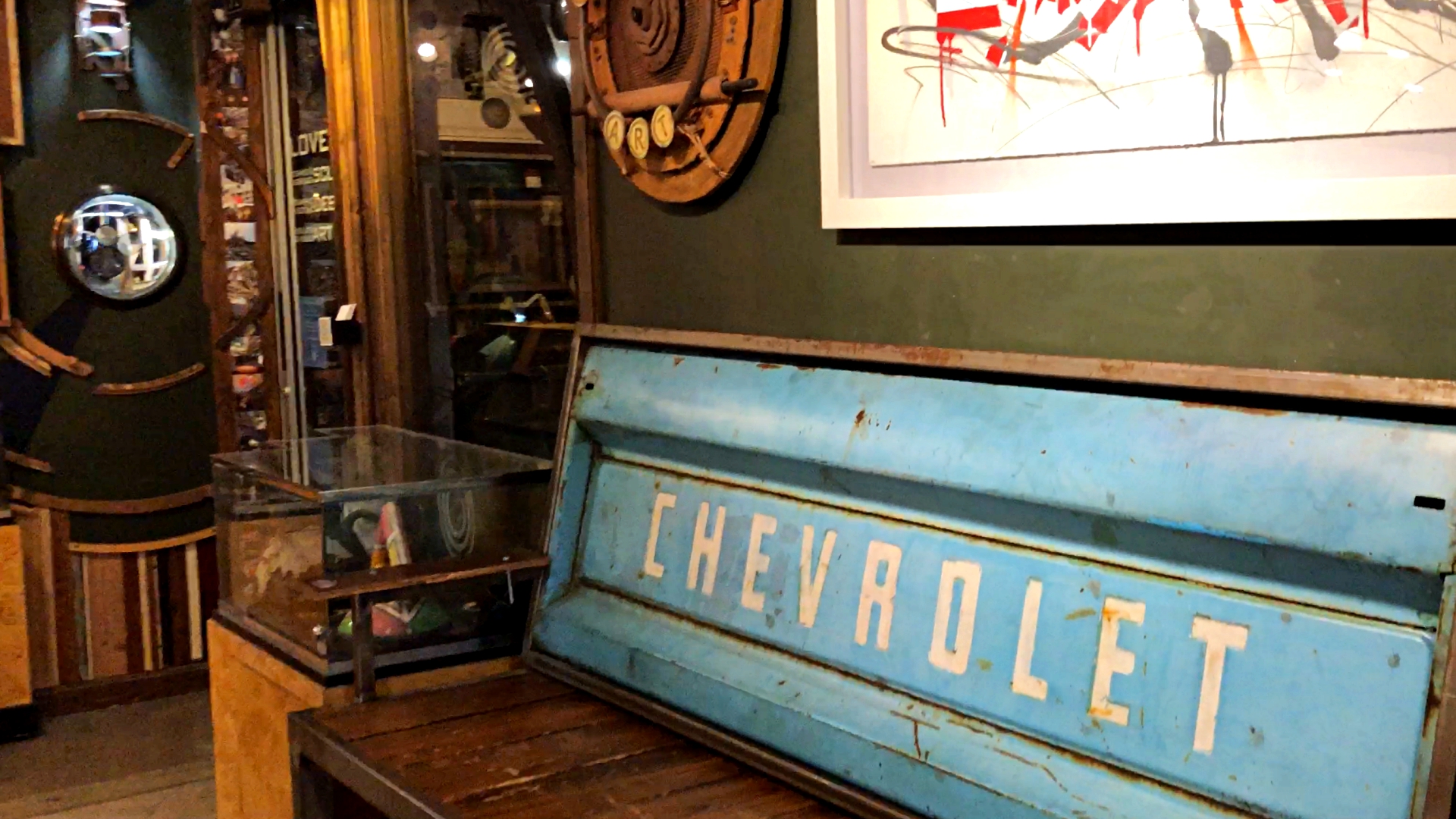 But Wait, There's More!
Upstairs when you make it through the maze of bookshelves (we swear it's intended to get you more lost than if you tried to find a shortcut in IKEA) you will find yourself in an Artist's Collective, which is a fancy way of saying that there are professional artists who work in various mediums that have private shop space upstairs where they produce and sell their very own unique works of art. Some of the artists produce contemporary paintings, while some of the others are more craftsmen with their hands, making art out of upcycled materials from pop culture.
Whether your aim is to spend some of your money or just to spend some of your time, this place is great for both. There are also many great places to grab a quick bite to eat nearby so we would recommend squeezing this into your mid-afternoon or after-dinner plans when you are in Los Angeles. If you are driving, just be aware that parking in Downtown LA is a pain, so it's key to plan ahead.