Forget hosting a party at home. Forget going to the neighbors and screw driving to a friends. Instead, do the big game. Do it big. And since we're assuming that you read the headline before you clicked, we know you know the number one place for Super Bowl action. It is, of course,  the one, the only, "Vegas," Baby …
Must Do It!
Sure, you can brave the cold of Minnesota (which we highly recommend if your team makes it). Or, if you're a lover of the game, big fun, and well, a little EXTRA fun (dolla, dolla bills, y'all) – there's only one destination that'll do.
Now let us remind you of a few important deets. When it comes to dialing up extraordinary joy and overdone glee – Vegas delivers like a coin-op candy machine dropping handfuls of Skittles. And when they're focused on events WITH heavy betting, they are the first and last word in the Universe. Period. And, if you didn't know – the Super Bowl – is light years beyond ANY other event. That means, in the world. Suffice it to say, this city spares no expense and cuts no corners ensuring that this amazing spectacle is done right.
3 Legendary Spots to Watch, Eat, Drink & Bet
There are five Vegas spots to watch the Super Bowl with all the essentials. Those being Great Food, Great Drinks, Massive Screens, and Big Fun respectively. Of course, they should also boast close proximity to a top sports book. Here they are in NO Particular Order:
Lagasse's Stadium at the Palazzo

Lagasse's Stadium at the Palazzo has super cool, modern seating with plenty of comfortable pillows to sink into (or throw in desperate moments.) One highlight of this sports-viewing mecca comes in the form of a sprawling, 10-foot by 20-foot projection screen. This place even comes equipped with stadium style seating. Even better, the menu was designed by Emeril Lagasse, himself – and the bar is legendarily well-stocked with choices.
Cosmopolitan Race & Sports Book
The Cosmopolitan Race & Sports Book is just an impossibly great venue. The big game will be everywhere – as will the food, folks, fun and wagering.  Located on the casino floor nearest the Strip, the new Race & Sports Book is gorgeous. Plus, it comes with LED video walls, high def TVs, full lounge, VIP room with 90-inch TV and off the hook drinks and cuisine. This place seriously bumps fun and sexy on game day.
This modernistic, sleekly designed sports book offers an expansive, state-of-the-art vantage point into the game. Even more, the VIP seats here create harbors for serious sports aficionados. Just off the sports book, Sunday revelers will find the architectural and mechanical mastery of the Centrifuge Bar, which double-downs on NFL fun on the day of the Big Game. There are seats for 104 people –  and screens including 36 65-inch televisions and 24 42-inch plasma televisions. And you can stroll effortlessly into the Centrifuge Party
Two WILD Must Do SB Parties
If you are looking for an actual party going on DURING the game – there are two mega-cool options. They aren't cheap, but if you think how much you'd spend at Costco to entertain 20 people, THIS money might well be better spent:
Hard Rock Cafe on The Strip

(Across from Monte Carlo)
Price: $220 per person
Open bar party with unlimited buffet.
Massive screens and guaranteed seating

PBR Rock Bar & Grill
At Planet Hollywood Hotel
Price: from $75 per person (sweet!)
Big screens, guaranteed seating, w/premium open bar.
Optional tailgate package available to include appetizer bar + early venue access.
Where to Stay (ONLY at Must Do Deals):

Insane Must Do SUPER SB Deal #1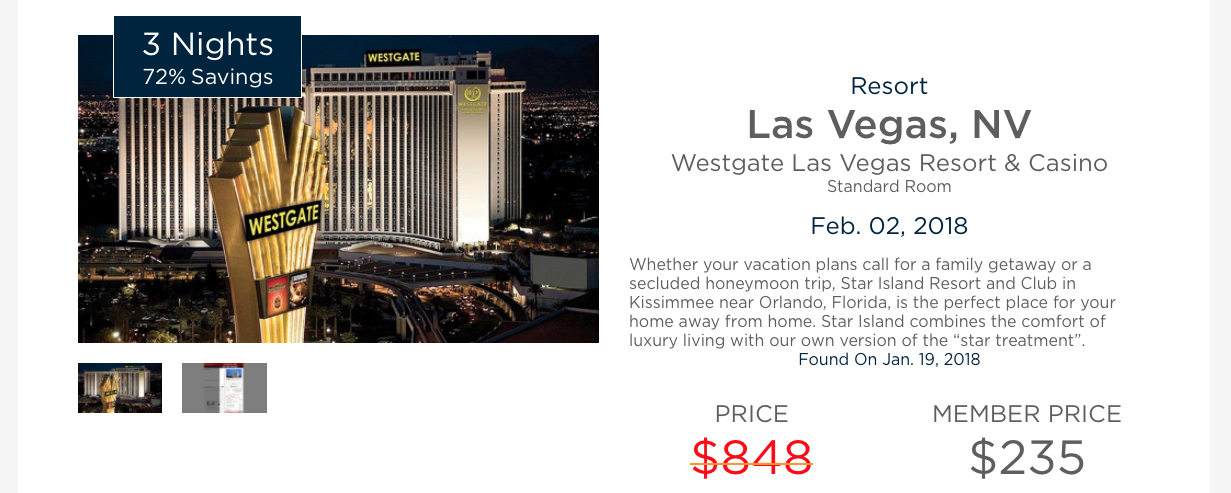 Awesome Must Do SB Deal #2
Wicked Must Do SB Deal #3
Oh, and if you were wondering – our ability to find and deliver travel's best deals extends far beyond the city limits of Las Vegas. Must Do Travels has carte blanche to take the lid off of pricing anywhere your imagination can take you. So, get used to winning the travel game at VacationRewards.com.