Golf imitates life, and these public courses imitate (and in most cases exceed) some of the finest private courses in the land. However, you don't have to take our word for it – instead, check out this list of the Country's Top 10 Public Golf Courses in the United States.
And yes, of course we can recommend heavily discounted, top-notch lodgings to comfort, indulge and pamper you between rounds.
With no further ado, thoust courses splendida (not sure if that means anything in any particular language):
10. Streamsong Resort, Streamsong, FLA
At Streamsong®, the philosophy is – whether you walk our "Blue" or "Red" (courses) – one can enjoy every inch of the environment, custom designed by Tom Doak, Bill Coore and Ben Crenshaw. A feast of nature crafter for the walking, purist golfer. Visitors revel in the fairways' subtle undulations and contours, emboldened by detailed nuances of course architecture.
While carts are, of course, available to those who need them, Streamsong® feels the noise, compromised views and other innate distractions of carting, contribute to an inferior golfing experience. Instead, lose yourself in the incredible sights, sounds and settings of Streamsong by walking your rounds
9. Harbor Town Golf Links – Hilton Head Is., South Carolina
Put your game to the ultimate test at Harbour Town Golf Links at The Sea Pines Resort. The crowning achievement of famed designer Pete Dye and design consultant Jack Nicklaus, Harbor Town is a perennial favorite among PGA TOUR players, as it places a premium on finesse, imagination and shot making, rather than strength.
Featuring a collection of par threes ranked amongst the world's finest (and a par-4, 18th considered amongst the world's most feared), Harbour Town Golf Links has seen many recent enhancements, including new Celebration Bermuda grass for the fairways. They have also added new Eagle Bermuda grass for the greens plus a brand new irrigation system.
A Certified Audubon Cooperative Sanctuary, this award-winning course is consistently rated one of the best in the U.S. by publications including Golf Digest, GOLF Magazine and Golf Week. Since 1969, it has been the home of the RBC Heritage, presented by Boeing, which attracts the world's top golfers and thousands of spectators.
8. Bandon Dunes, Bandon OR
Golf was born on rugged, wind-swept land just like that of Bandon Dunes, Oregon. Every hole, every hazard, every shot is blessed by nature's infinite presence. The very game changes with the elements, all part of the enchanting tradition that comes with links golf.
Lies are tight and conditions are lean. Bounce and roll are a better measure of quality than color. Mastery of the ground game, here, is more important than raw power. The ingenious and inventive player is rewarded with multiple options on nearly every shot.
Amongst the massive dunes and hearty pines, guests discover golf in its purest state. Where nature is embraced, not conquered. And where the traditions of a time-honored game yield to an experience unlike any other.
A course – one completely natural and routed through an environment of indigenous vegetation gives rise to a game of golf in its truest form. This is a thinker's course. Ever-present winds and shifting elements create a new experience each time you play.
 7. TPC Sawgrass (Players Stadium Course), Ponte Vedra Beach, FLA
Initially an idea by former PGA TOUR Commissioner Deane R. Beman, the Stadium Course at TPC Sawgrass was built in 1982 to host and become the permanent home of THE PLAYERS Championship. As the first true "Stadium Course," it was designed to improve the overall on-site fan experience. Finally, the Stadium Course would be a championship-caliber course accessible to all golf fans.
With the help of esteemed golf course architect Pete Dye, Commissioner Beman created a course design that favored no particular player or style. The result is one of ultimate balance. The more well-rounded the player, the better the result.
Come here to find a selection of short, medium and long holes within the categories of par-3s, par-4s and par-5s; both right and left doglegs; and a course routing laid out so no two consecutive holes ever play in the same direction.
While championship tees stretch the Stadium Course to 7,215 yards, there are three other yardage options to suit your game. The blue tees measure 6,661 yards and the white tees are at 6,103. There is even a blended tee option at 6,402 yards which offers a nice compromise. The forward, or ladies' tees are at 5,109 yards.
The Stadium Course has been honored by multiple golf publications as a top golf destination. Golf Digest ranked ranked the Stadium Course 10th overall among "America's 100 Greatest Public Golf Courses" and Golfweek ranked the Stadium Course the No. 1 "Best Course You Can Play in the State of Florida."
6. Kiawah Island Resort (Ocean Course), Kiawah Island, SC
The Ocean Course at Kiawah Island Golf Resort hosted the 2007 Senior PGA and the 2012 PGA Championships. It will also host the 2021 PGA. The Ocean Course is the fourth course to have hosted each of the PGA of America's major championships.
There is no other golf course in the world (outside of the United Kingdom and Ireland) more affected by the wind. From one round to the next, a player can experience up to an 8-club difference on holes depending upon wind conditions. Yet, because the courses are aligned with prevailing winds, one course contends only with Easterly and the other Westerly winds.
Moreover, the Ocean Course has more seaside holes than any other course in the Northern Hemisphere – 10 right along the Atlantic with the other 8 running parallel to those. The Course gained instant notoriety as the host of the dramatic "War by the Shore," a battle decided literally by the final putt of Sunday's final match in 1991's Ryder Cup Matches.
5. Whistling Straits Golf Club (Straits), Kohler, WIS
Arguably the greatest championship course in the U.S., the Straits at Whistling Straits® hosted the 2004, 2010 and 2015 PGA Championships, as well as the 2007 U.S. Senior Open and the future site of the 2020 Ryder Cup.
Whistling Straits offers two dynamically contrasted courses and world-class prestige. Open, rugged and windswept terrain defines the Straits – sculpted along two miles of Lake Michigan shoreline. The Straits are deeply influenced by Irish links courses with fescue fairways and massive sand dune bunkers. While just inland, interspersed by four meandering streams, the grassland and dunes aspect provides a deceiving albeit tranquil landscape. Experience these two must-play courses crafted by hall-of-fame designer Pete Dye.
These masterpieces of golf landed the Straits at Whistling Straits® a ranking of #4 in GolfWeek's 2015 Best Resort Courses.
4. Bethpage State Park, Bethpage, NY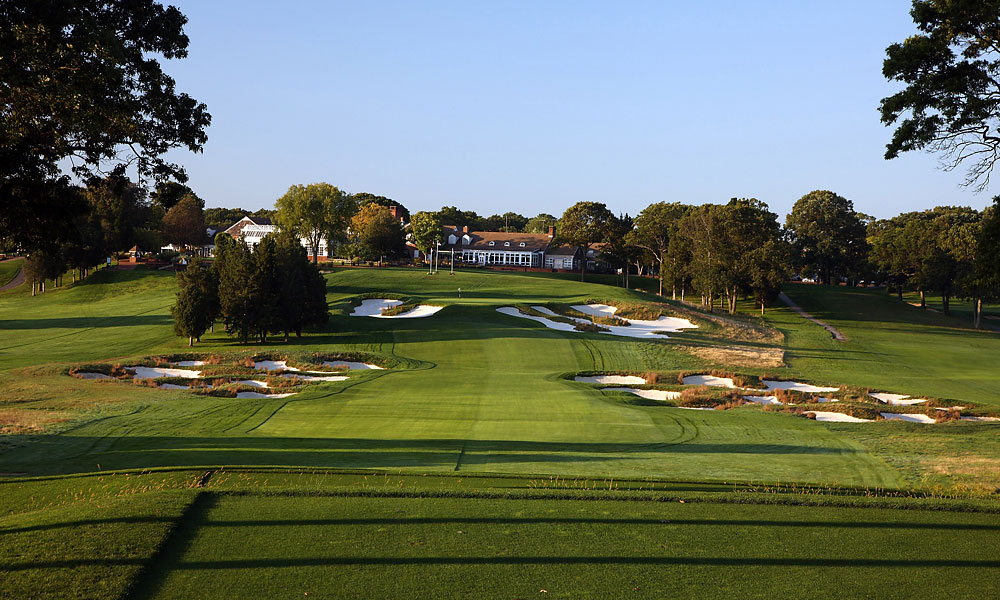 This destination has been a mecca for public golf since it opened. This pristine spot in upstate NY features five 18-hole regulation courses including the world-renowned "Black Course" which was the site of the U.S. Open in 2002 and 2009.
In the early 1930s, the Bethpage Park Authority purchased the Lenox Hills Country Club and other adjacent properties to build what we now know as Bethpage State Park. Famed golf course architect A.W. Tillinghast was hired to design and oversee construction of three new golf courses (Black, Red & Blue) as well as modify the Lenox Hills Course which became the Green Course.
Due to increasing demand, the Yellow Course was designed by Alfred Tull in 1958 and added shortly thereafter. Approximately 300,000 rounds are played annually on the five courses at Bethpage, all of which start from the magnificent Clubhouse.
3. Pinehurst Resort, Pinehurst, NC
The majestic pines towering over historic Pinehurst rustle, softly whispering memories of golf legends like Jack Nicklaus and Payne Stewart who shone so brightly on these pristine greens. The stories of champions and traditions began at Pinehurst in 1898.
Pinehurst has been the site of more championships than any other U.S. golf course. The destination offers nine course choices with Pinehurst No. 2 serving as the centerpiece for the Resort. It is still regarded as one of the world's finest. Opened in 1907, No. 2 was designed by Donald Ross, who dubbed it, "the fairest test of championship golf I have ever designed."
No. 2 is known for its crowned, undulating greens, which deliver some of the most complex and widely hailed shot experiences in the world. Ross believed in providing golfers with strategic choices, and Pinehurst No. 2 was crafted to epitomize that philosophy.
2. Pacific Dunes, Bandon, Oregon
Literally the better of two Bandon Dunes courses on THIS Top 10 list. Pacific Dunes is a Tom Doak design that opened in 2001, Pacific Dunes is remarkably different in both character and shot making requirements than any other courses named on this list.
Pacific Dunes doesn't feel as though it was built, rather, some more akin to "discovered." Rippling fairways remain just as they were found and natural bunkers line the landscape as they have for centuries.
The breathtaking course emerges from shore pines to spectacular 60-foot sand dunes. And when the wind blows, precise approach shots one's only hope. Pacific Dunes is short enough to give you a chance, but rugged enough to test every facet and subtlety of your game.
1. Pebble Beach, Pebble Beach, CA
There are few golf thrills like teeing up for the first time on Pebble Beach Golf Links. Those who take it in, can inarguably sense the presence of golf's biggest names who came before. With each and every storied hole, you will be recounting some of the greatest moments in golf history.
Since 1919, the exquisite beauty and unique challenges of Pebble Beach Golf Links have electrified golfers and spectators alike. Designed by Jack Neville and Douglas Grant, the course hugs California's rugged coastline, providing wide-open vistas, cliff-side fairways and sloping greens.
Over the years, Pebble Beach Golf Links has been the site of golf's most prestigious tournaments such as five U.S. Open Championships, including the Open in 2010 (only to return in 2019). Every golf lover deserves to play "Pebble" at least once in his or her life. And, there's no time like the present.
Also, check us out on Facebook to share you videos, images and stories with other travelers like YOU!