Great events can be found just about everywhere. There are probably a few that you look forward to, just a few miles from your home. Then, there are these. Ten of the strangest, craziest, wildest and super fun events you can experience. So, here they are … the crème de la crème of super-weird festivals from around the world (in no particular order):
Up-Helly Aa – St Ninian's Isle, Scotland (January)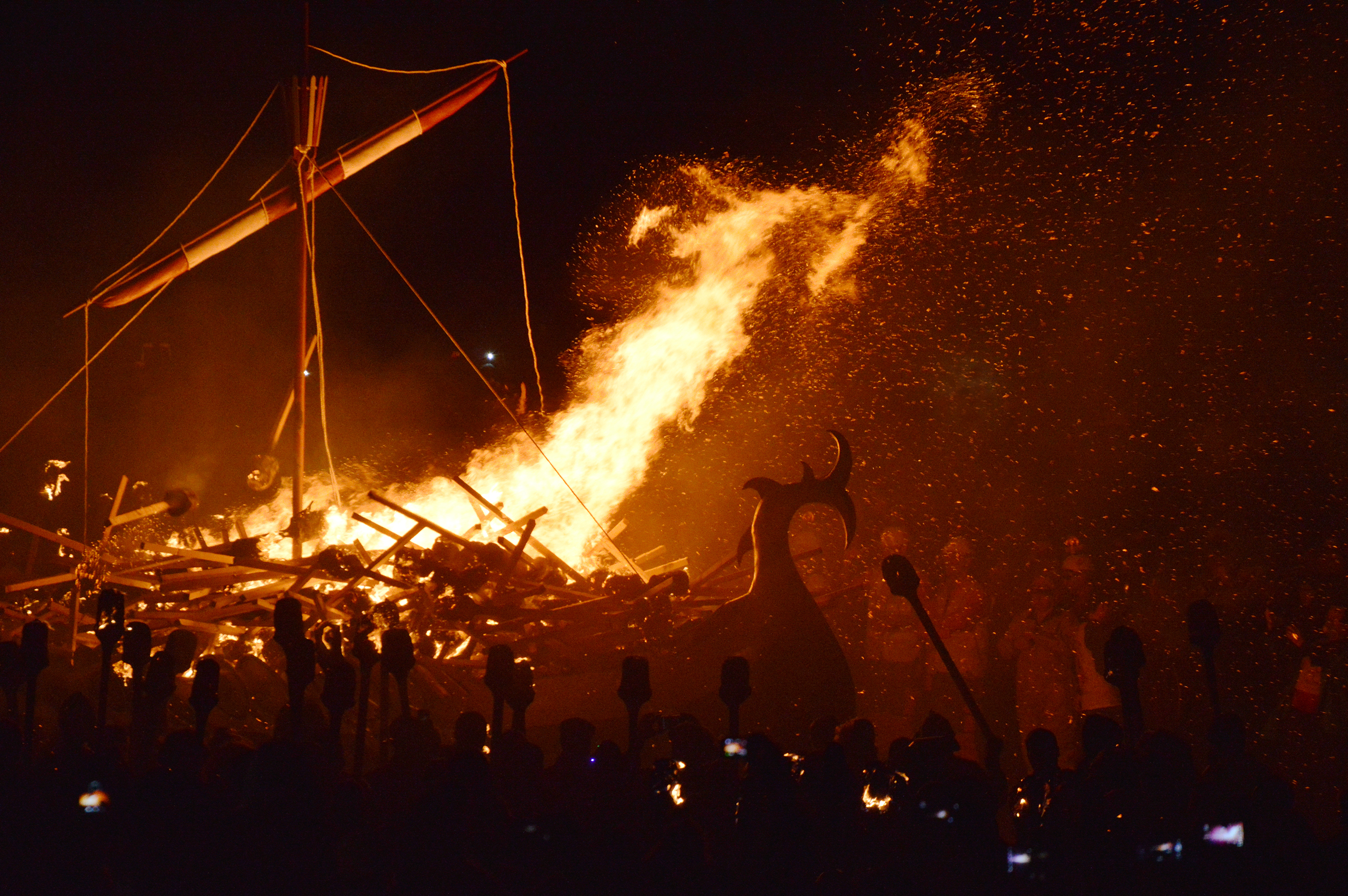 This is Europe's biggest fire festival. Yes, we said fire festival. Apparently, that is a thing in Europe. At any rate, at this particular fire festival, the locals of St. Ninian's Isle dress as Vikings and set fire to things. Hopefully things that they intended to burn, prior to the festival. The event celebrates the end of the Yule season. So, let's get this straight. Dress as a Viking and burn things. Yes please!
The Battle of Oranges – Ivrea, Italy (February)
In 1194, the people of this town rose up against the King. And every year, they remember the bravery of their peasant ancestors. So, what does this have to do with oranges? Well, just like we have found with every super-weird festival, there is at least one weird twist on the conventional. In this case, it's an orange twist. Every February, the town re-enacts the uprising, but instead of dark ages weapons, they use oranges. What you have is a juicy good time. Yep. It's a one fruit food fight. Why oranges? We suppose they have their reasons.
International hair freezing contest – Yukon, Canada (March)
Hard to say what's most appealing about this bizarre festival. The impressive attendance in the bitter cold? The passion put into it. Or, it could simply be the icy coifs themselves. One thing is for certain, this deserves to be on the list. Go check it out. Sculpt a weird 'do and compete. Drink beer and take in the sights. But do go. At least once.
Kanamara Matsuri Festival – Japan (April)
Sorry. No photo for THIS ONE .. (YES, on purpose;)
We weren't sure whether to include this one – and you are about to learn why. But, if we are to be genuine and authentic, we had to include it. We did choose to withhold the pictures for the sensitive. That said, it is a hoot.
Dedicated to all things phallic, this religious festival features penis-shaped lollipops, penis glasses, giant penis statues, penis-themed souvenirs … okay, you get the idea. Of course, like the garlic festival you will read about in a moment – this is not at the top of our list.
Cooper's Hill Cheese-Rolling – Cooper's Hill, UK (May)
Imagine chasing ample-sized wheels of Gouda Cheese down a steep hillside. Now, in some ways, you have already experienced this cheesy festival. Yes, that's right, the cheeses roll down Cooper's Hill in Gloucestershire – contestants chase them. Once you've seen it, you'll know why it's a Must Do.
Batalla del Vino Haro – Spain (June)
Italy is known for wine. France is known for wine. California is a grand producer of wine and even, to a lesser degree, Chile is known for its lush varietals. That said, Spain has a solid wine reputation as well. And when it comes to BATTLING with wine, Spain is head and shoulders above the rest.
This festival hosts myriad wine-based competitions with a main event that is of legend. The Battle of Wine. Just as you might imagine, this is a giant wine fight and is among the things of this world that remind us how great humanity is when our hearts are open and we embrace joy. Go to Spain. Ge in a giant wine fight. It is about the best thing you'll ever do.
Gilroy Garlic Festival – California (July)
Not popular among active vampires, the Gilroy Garlic Festival is the largest and smelliest food festival – get this – IN. THE. WORLD. That's right. Garlic lovers know how to do it right. There are garlic-based culinary delights from all across the globe. Heck, they even serve garlic ice cream. Of course, there are some other types of foods too, plus great entertainment and more … We just don't know if it's an ideal first date spot. Then again, if you go the garlic festival and earn a second date – you're likely home free!
Beer Floating – Finland (August)
No festival list in humanity would qualify without a beer event. So here is our favorite. It is a festival based on the genius confluence of beer drinking, fun and floating down a river on a boat or DIY raft. Locally, this festival is called Kaliakellunta – happens just outside Helsinki and it just kind of happens. Seriously, there is no official organizer or committee. People just show up with beer, boats, floats and well, do what they came to do. We suggest you join them.
Day of the Dead Festival – Mexico (November)
While most outside of Mexico who have heard of this, tend to associate the Day of the Dead festival with a Halloween-like experience. However, it is a bit more spiritual, and beautiful – with the living celebrating deceased family members and their shared ancestors. The dress is elaborate and the mood is both soulful and uplifting. This is a heartfelt tradition and a very special festival for all those who participate – one unlike anything you could see anywhere else.
Krampusnacht – Germany (December)
December 5 is the evening on which parts of Germany (and Bavaria) celebrate Krampusnacht – a pre-Christian tradition throwback. The men parade around dressed as creepy demons (The Krampus), the women get to have some fun too, wearing masks, representing Frau Perchta, a Nordic goddess of both fertility and war.
The festival is tons of fun and just "a touch" creepy. Krampus, meaning "claw" in German, is a "dark counterpart of Saint Nicholas, the traditional European gift-bringer who visits on his holy day of December 6th." The costumes are frightening and the fun is BIG.
No matter your next jaunt or intended festival du-jour, Must Do Travels can help you SAVE BIG on literally everything travel. Go ahead and compare the prices in our endless portfolio of destinations, hotels, resorts, cruises and vacations with anyone else. In other words, we've "got the juice. Check us out at VacationRewards.com and sign up for FREE. We'll even give you $25 to put toward your first booking. Have fun out there!